If you're planning to build a patio or deck, you've got a lot of options for instance; wood decking vs composite decking. Choosing the right one may require a bit of expertise since there's a lot more to your deck's material than color or texture. In this article, we'll recommend some deck-building options, and pick out their strengths to help you decide which types of deck material you may want to use.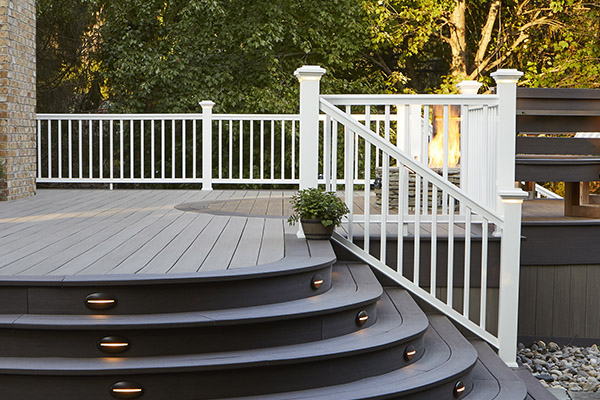 Things To Consider When You Build a Deck
To help you decide which material to use for your deck, keep these things in mind:
How you use your deck: You can use a deck for a myriad of things, whether it's for fun or work, solo or social. It's important to consider using a deck that'll fit your needs best – different materials are often best suited for different uses.
What you'll demand from your deck: When you build your deck, it's important to consider what your deck will be going through day by day, regarding both the material you use and your deck's eventual structure. What will you place on your deck – furniture, planters, grills, or other appliances? How long of a lifespan do you demand of your deck?
What elements will your deck be exposed to: While all materials are now considerably durable, weather, humidity, and direct sunlight exposure can all play into how your deck comes together.
Composite Decking
Composite decking consists of wood fibers, polymers, and a limited amount of bonding chemicals. After being heated, this mixture is then molded into board-like lengths before being cooled and solidified into place. The resulting boards require significantly less upkeep than regular wood decking and appear far more realistic than plastic equivalents.
Composite decking typically has a longer warranty than wood, is made in the US, is comparatively simple to assemble, and has long-lasting durability.
Wood Decking
If you're looking to build your deck from wood, you've got several popular and stunning types of wood decking to choose from:
Cedar – A look that never gets old, cedar is an eternally trendy wood for deck building. A popular wood with a smaller environmental impact than any other, as it is non-polluting during production and installation, and can be easily recycled.
Redwood — Far more durable and visually pleasing than other decking options, redwood decking is one of nature's most beautiful and durable building materials With a sheer strength five times that of plastic or composite decking. All of this strength and durability come in a lightweight, easy-to-work-with wood that helps keep total building costs low.
Hardwood — Genuine Brazil hardwood with a one-of-a-kind appearance. Ipe, often known as Ironwood or Brazilian Walnut, is the most abundant of all tropicals. It's a lovely hardwood that looks similar to mahogany but has a deeper, richer crimson hue.
Treated Wood – Extra strength without sacrificing appearance. This ubiquitous type of wood is the most popular decking material on the market today, which isn't surprising given that pressure-treated (PT) decking is inexpensive, very durable for its price, and easy to stain in practically any color.
If you're planning to build a deck, feel free to contact our customer success team and we'll be happy to help you choose the right material for the best result.