If you've looked into building a deck recently, you've no doubt been hit with a ton of different options of material. From all-natural to pressure treated to totally artificial, what you build your deck out of is one of the biggest decisions any homeowner has to make. Many have decided that composite decking is the way to go, perhaps due to its durability, customizability, price, or the many other advantages it offers over wood.
But even if you've already chosen composite wood, you still need to make the decision of which brand to use. Every composite decking brand will tout its brand as the best in the business, but how do you know which brand is truly the best one for you? In this article, we'll take a look at four of the top composite decking brands and walk you through which one will be the best fit for your new deck.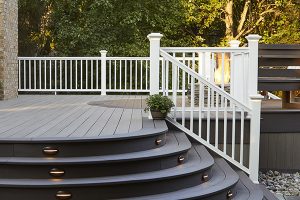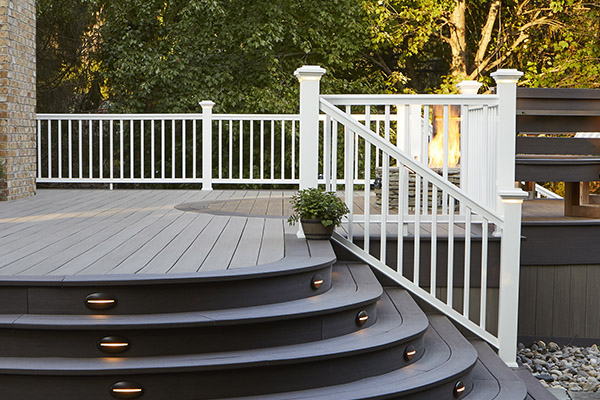 Trex
Trex is the original of the composite decking brands, having brought the first composite decks to market nearly 30 years ago. Their long tenure in the decking industry has given them a lofty reputation, and Trex is still a widely known and utilized brand today.
Beyond being the first to market, Trex has several unique benefits over other composite decking types. Customers note Trex's different buying options, starting from the inexpensive Enhance® all the way up to the top-of-the-line Lineage®.
Differences between the cheap and pricey include higher quality textures, more detailed faux-woodgrain, and the amount of material used per board — Enhance® boards carve grooves out of the bottom of each board, lowering purchasing costs but making each board slightly less durable as a result. Trex boards are also made from recycled plastic, and boast a 25-year warranty.
Unlike some other brands, Trex boards are not made with woodgrain on the bottom of the boards, leaving them gray and plastic-looking. This means Trex may not be the ideal brand for those who need heavy use out of the space underneath their deck. However, if your main priority is a good compromise between price and aesthetics, you might consider using Trex for your deck.
TimberTech
TimberTech is a relatively newer player among the composite decking brands, and it markets itself as a composite deck maker with more bells and whistles than the rest.
Like Trex, TimberTech offers three tiers of decking, starting with the cheaper EDGE® and ending with the more expensive AZEK®. TimberTech's EDGE® is comparable to Trex's Enhance in terms of price and looks, but TimberTech is most well known for their comparatively luxurious AZEK® decks. Depending on the specific decking in question, TimberTech decks can be made with between 50% and 100% recycled plastics.
AZEK® decking boasts many more features than other composite decking types, including increased fade resistance, better moisture resistance, a heat-dissipating surface for more comfortable walking, slip resistance, and even a lifetime limited warranty. In the decking industry, TimberTech's AZEK® is widely known as one of, if not the most high-end decking you can buy… but with a high-end price tag to match.
If you need your deck to be as high-tech and bold as possible, the higher-end TimberTech composite decking brands may be your best bet. However, if you're on a budget, you might do well to consider a different brand.
Fiberon
Fiberon does things a bit differently than other composite decking brands, mainly due to the fact they take a different approach to manufacturing their boards.
Fiberon offers six types of composite decking boards, the cheaper two being made with PVC plastic, many refer to this as PVC decking, and the four pricier ones being a 50/50 blend between PVC and real wood. This blend between natural and artificial means that Fiberon boards are more resistant to gradual wear and tear, meaning your deck will be fade, rot and splinter-free for years, even decades to come.
Fiberon also boasts their more "authentic"-feeling woodgrain on their higher-end boards, which they claim have more natural- and convincing-looking grains, in addition to their boards' easier-to-clean nature.
A less expensive option than TimberTech, and generally comparable to Trex in price, Fiberon might be your best choice if you're on a budget, yet still want a deck that resembles real wood. This is especially the case if you value warranties, as Fiberon offers one of the best price-to-warranty rates of any of the composite decking brands.
Fortress
Fortress, a lesser-known brand in the world of composite decking brands, is no less ambitious despite its smaller reputation.
With two types of decking on offer — the PVC Apex® and bamboo-PVC blend Infinity® I-Series — their product lineup is smaller than others. While Apex® is largely comparable to other brands' cheaper options, Fortress's Infinity® I-Series claims to be a "revolution" in composite decking.
According to Fortress, their Infinity® I-Series boards are 40% lighter than their competitors' boards, while being up to twice as strong per board. So strong that you can have joists up to 16″ off-center, which means you might be able to reuse your joists if they are in still in good shape. This is in addition to an improved heat dissipation potential, and a natural, always unique woodgrain pattern — each Infinity® I-Series deck looks different than the last. Most importantly, Fortress strikes a balance between luxury and price with this line, carving out a new market for high-quality composite decking.
If you're one such person, who can afford to spend a bit more on their deck but still doesn't want to break the bank, Fortress may be the brand you've been waiting for.
No matter which composite decking brand you're most interested in, we're here to help at Jordan's Lumber. Give us a call or drop in any time to talk with one of our experts, view samples, or just learn more about what we might have in store for you and your future deck.